About as sunstainable as the governments fiscal statement.
Throwback to Rooney and Welbeck doing some music.
When you think we're doing badly this season and then this shower turn out.
And yet this same shower of shite made us look 2nd rate a few weeks back.
of course, that shower picked up 3 points against LFC last time around
@SBYM Goldbridge/Red Café time?
Hey, trying to clutch a little schadenfreude here.
On it

So much joy!
Too sick.
Will tune in for the review though…
Why didn't we sign a huge striker with a great reputation who bangs goals in for fun? Ah….
United started the season terribly, got some momentum after a couple of big wins, and the media was talking like they were title contenders. Their stretch of results early this year made me remember back to the early Ole days when he won a bunch of big games and could do no wrong. Then they lost at Arsenal and the wheels came off. Again, I think they are a better side with a better coach and some better players than last season. Still, if the Sociedad game could be put down to having their B Team out, today is a reminder that they are still a long ways away.
** feel gross rooting for City but let's be real, we're outta the title race and they're walking the League this year
I really don't understand this. Both us and them have come back from similarly bad situations to be competing for or even winning the league in recent seasons.
Respectfully, I don't think either of us have ever been so far behind this early in the year and been competitive at the end of it. Even in 19-20 when they lost to Norwich and drew with Spurs in the first two months of the season, they were still only 5 points behind starting October and 6 behind starting November. Currently, we are 10 points back and have 10 points on the board. I'm not saying we won't be competitive in the future, but this year seems to be a rebuilding one for us, and they just signed Haaland.
(Both examples have games in hand, but still)

Granted, not this early in the year, but that's even worse, because there are comparatively fewer opportunities to pick up the points needed.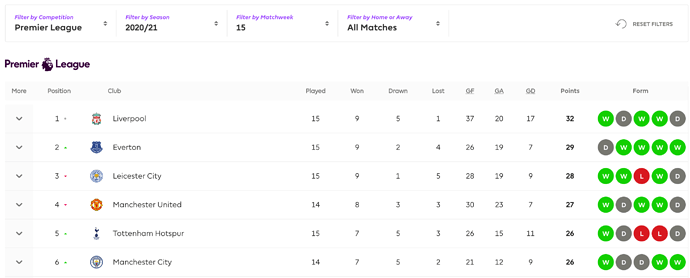 It only looks this bad early in the year if you're assuming that the current form will persist for both teams. Our baseline long-term average seems to be much better than this, which should give us reason to believe that we can still achieve something.
Totally agree our baseline is much higher, and of course we clawed back a lot last year to make it interesting. For me, given what we've seen so far this season and my confidence that we're turning it around in a timely fashion, I think we're looking at top 4 at best. If we put together a run of 4-5 games where we're winning and not letting in preventable goals, I'll probably change my tune, but there hasn't been much of it to date. Still time to turn it around, but it needs to happen sooner rather than later.
The caveat, of course, is that our players are another year older and more worn down. Are they still capable of reaching previous levels of performance?
Simultaneously, we have Carvalho and Elliott who are young and fresh, Diaz who only just came in, Jota who's entering his prime.
I'm fairly confident they can reach similar levels of performance as a team, the question I have is whether they would be able to do it in time.
That's assuming City can't fall off a cliff the way we did.
Theoretically a possibility, but I'm not optimistic.
Anyway, this is the United thread, haha. Going to watch the highlights for a bit to improve my mood after yesterday.