except I predicted us to draw Spurs.

damn where has this been all year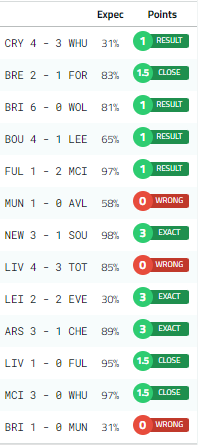 still in 4th tho.
Not too often (if ever) that we've had anybody break the 20 point in a round barrier. Well played! Much needed too as @Jimmyscase was really piling on the pressure for the last "Champions League spot" in recent weeks.
Really interesting watching @Livvy and @ShadesOfRed playing leapfrog!
something goofy with that draw week though, I think there was a few extra matches in there. two United games… just noticed that
just check this past weekend. that's more like it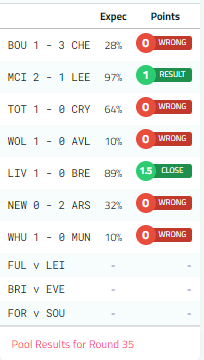 I'm too inconsistent to put enough
pressure on our league's top 4 places. I'm too superstitious. If I suddenly picked up constant points, the real Reds might lose their last games. Semmy can have it!
Maybe you and @Semmy better keep looking over your shoulders… @Bonus making a late run at the top 4.
Overtook her yet again after the last game. Fully expect to be back in 3rd by the end of the day.

got the spoon two weeks in a row. falling down the table like a stone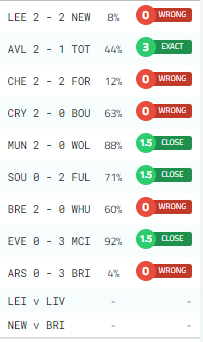 Only half a point between you and @Livvy with two weeks to go… looks like we'll have some final day excitement.
another shocking week of results. fucking hell, dropped to 6th.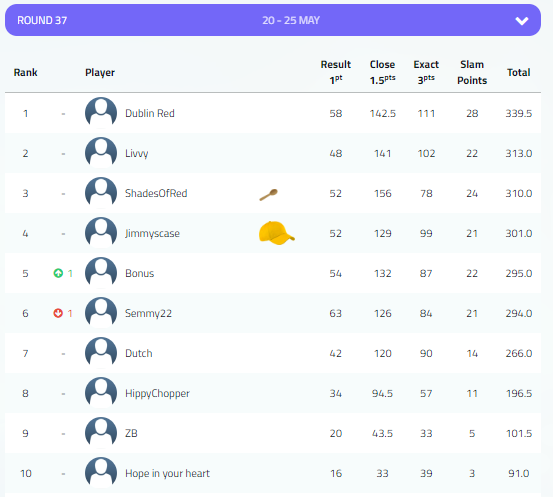 Some strange results, Newcastle, City and us. @Jimmyscase seems to have the inside knowledge though.
Poor @ShadesOfRed is having a nightmare few weeks.
Been collecting wooden spoons myself recently. Going a bit Arsenal after leading for monthes.


Everton games have been doing my head in, but have been good for me in this game recently. I can't give them any encouragement out of principle, but I can't see them finishing in the bottom three. Stuck with 1-1 draws as the only logical / emotional compromise. Good luck to @Semmy. You might still pip me for fourth. I'm happy with the run-in so far though, it has to be said. Congratulations to the three at the top.
Best of luck to @Livvy and @ShadesOfRed in the battle for second tomorrow, seems like you've disagreed on most results, so it's going to be interesting.
@Jimmyscase looking good to secure the final "Champions League" spot based on recent form, but @Bonus and @Semmy both well placed to pounce if he slips up.
I don't know that I made the best picks this weekend but I likely won't be watching anyways. Too much on the go tomorrow.
Best of luck to you all, been quite a season to forget. Hope Bobby and James get some time on the pitch, really a mean-nothing game tomorrow