I'm in contact with her, she was ill for a while.
Send her our best wishes.
Hopefully nothing bad? Best greetings and wishes for recovery if you have further contact with her!
No him and RD, decided that they didn't want to move from TIA.
I think they simply decided it was a good time to step away from forums in general.
I should know this methinks but I cannot for the life of me think who RD is?
@ everyone who asked about Maria, she sends her best wishes and heartfelt thanks for your concern. She will try and pop in soon.
Hello, everyone,
I was away for abit, due to health issues and was resting abit. Hopefully, I will try and post abit more regularly.
Thank you very much for your concern, I was really touched by your warm wishes. Bless you.




Hope all is well with you all.
Ok, please be kind. I'm sure this has been asked somewhere before, but how can I jump to the end of a thread? If I'm away for a day or two and come back to see eg the Everton post match thread has 400 new posts, I really don't want to have to scroll through all of them to get to the most recent comments, how can I skip to the end? Thanks
Don't tell him,lazy bastard.
On mobile, you can click at right bottom of screen, eg. 279/279 and you get the scroll to navigate at the bottom.
You know you will get a badge if read/scroll all the posts in a thread.

Thanks. Fine on mobile but not on laptop
Here is solution within the thread it's self
[quote="ISMF1, post:36, topic:499"]
There are several very ways to navigate threads. On a computer on the right-hand side of your screen, you will see a scroll bar.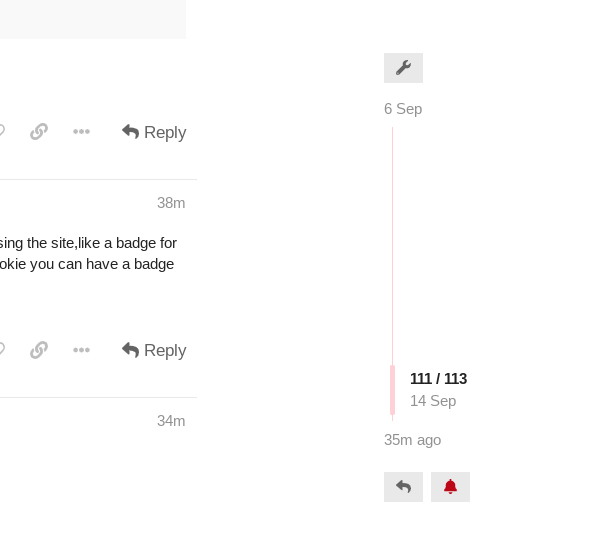 On the scroll bar in the image above if you can click on "6 Sep" to go to first post. Or "35m ago" to go to last post. These are buttons.
The scroll bar is also intelligent, move the bar and the date and number of the post changes. This makes it easy to navigate backward and forwards. (In image above the "111/113 14 Sep" is a dragable button, by holding down mouse button)
Alternatively use keyboard shortcuts
This had instructions to go it from outside thread
In which thread should we wish @Scott.Jones a happy birthday? Everyone is invited for a small gathering of many people at @cynicaloldgit's.
Sounds like a lemonparty.