The site was created, administrated and moderated by:
Ubermick
Hope in your heart
Nikola
Mascot
ISMF
Zinedine Biscan
Arminius
My long time user name is not showing but my email is,as I've been around 10 years as Hugo the horrible I'd prefer to stay with it.
Can I sort it?
Sorted

Sorry can't have spaces
Hope and Arminius have been posting pretty regularly I think? (Edit: checked and Hope is the 6th most active poster on the site!) And ISMF is working maniacally behind the scenes in a cloud of steam to keep the site running smoothly. Ubermick is crazy busy at the moment, but he'll be back around soon enough I'm sure.
THANKS FOR PUTTING IN ALL THAT HARD WORK FRIENDS
I for 1 appreciate it and know how much actual work goes into these nonprofit enterprises. hope there's enough income that y'all give your selves a stipend. or at least cover your expenses.
well done!
Now get back to work you dirty bastards!



How do I put a photo on my profile?
You click on the button at the upper right, on your avatar. Then you'll see the option 'preferences' (a little wheel at the right). Click on it, and there, you'll have the possibility to put a pic on your profile.
Been logged out, edit items not shown, edit page marked with a cross, couldn't read any other posts.
During the match? Or just in general?
I think we are just overloading during the match - hoping that the server upgrade will improve that. I doubt there is anything you can on your side.
@ISMF1 and the rest of you gents…
What's happening about bringing over specific threads from TIA to here? Is that still happening?
Can't directly bring threads over, but still planning to have a read only archive similar to how TIA is now. (Although users are free to copy and paste their content)
Unfortunately my laptop died the other day but it's on my radar after server upgrade and new features next week. I will get it sorted quite soon as I will be moving house and starting new job in few weeks time and know I don't have long till we lose access to TIA altogether !
Hello there…how do I add emojis to a reply…found one, but couldn't add it to my post!!! Cheers m'dears.
Just to let you know that if you're ever short of admin then i'm here when you need me.

Two ways to add emojis.
One is to type ":" and then start writing name of emoji
Eg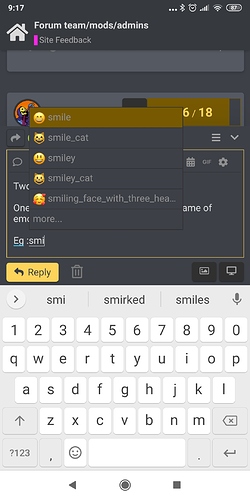 Alternatively in the tool bar above (with bold, italics etc) you can see a smiling icon. (8th one along). If you click on that it brings a new menu with hundreds of emojis. You just double click on what you want
Ha!!! Didn't double click…cheers.