Pretty reliable, he's a fantastic player. Slight concerns around his injuries though.
He'll fit right in, then.
That's interesting. From what I saw from him when we played against Leipzig, he looked boss. Great pace, great athleticism, a cool head, and vision for incoming danger. He looks way more mature than his 21 years would suggest.
However, as you say, his injury record is horrendous since some time: since October 2019, he has missed more than a full year with all kinds of injuries. His 19/20 season and the start of the 20/21 season was one to forget for him, with three injuries due to a torn muscle fibre. This season alone, he has already missed out on 150 days according to transfermarkt.co.uk, his latest injury being one on his ankle and taking him out for slightly less than fifty days.
Avoid like the fucking plague. We've already got brilliant centre backs. We need one that can stay fit.
It's a strange one for me, he is a right sided center back which is Kabak's primary position and I think Kabak has done well. Although both Konate / Kabak are 21, this could simply be the succession planning of Matip and Van Dijk though.
The injury record is the huge worry as @Mascot says, but we surely would be covering ourself by knowing they aren't long term?
Can't say I'm not a little bit excited of having Van Dijk, Matip, Gomez, Kabak and Konate next season. That is some depth.
Joe Gomez has blown his knee three times now.
Virgil Van Dijk is coming off his first ACL
Joel Matip can't string three games together.
…and we're dropping €40m on a CB who has spent half his time over the last two season out injured? Seriously?
In Footy Manager parlance, the first attribute we should be looking at is 'injury proneness'. Before we look at anything to do with defending. That's the number one consideration here. We can't afford to sign another lad who is going to be perpetually injured. And at €40m it's hardly like we're getting him at a knock down price.
I expected a new CB to be one from the pool of young centre backs the club have already been linked with but this one in particular worries me a lot because of his injury record - and the fact that Leipzig would sell him after selling Upamecano raises a red flag for me. I hope I'm proven wrong in that regard but that injury record is worrying, Keita's injury record at Leipzig is that of Iron Man compared to Konate's.
Worth mentioning that Leipzig have already signed 2 CB's in advance. One already last summer and one recently. Josko Gvardiol and Mohamed Simakan. Probably the ones so far who will replace Upamecano and Konate.
Konate will be 22 in May.
17/18: 22 games
18/19: 43 games
19/20: 11 games
20/21 so far: 15 games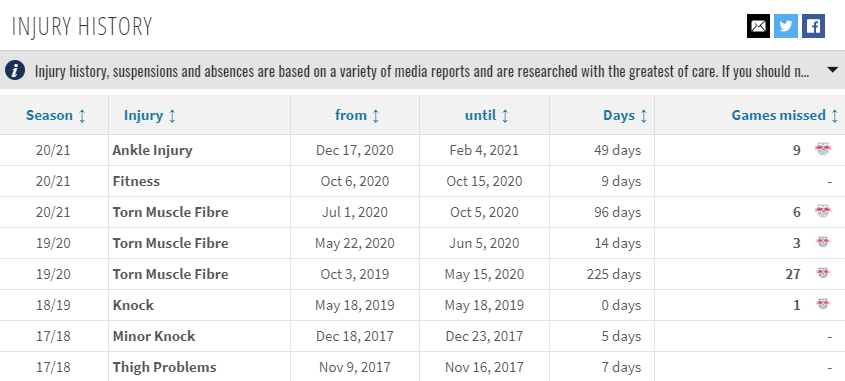 French U21 international, but can also play for Mali if I'm not mistaken. Possibly another African international if he never really gets a chance with France, considering their competition in that position.

Rumours going around that we are looking to build a core group of young French players…
We're not negotiating with Leipzig, article says we would most likely need to pay release clause, which would take decision out of their hands
Tbf the dates of the torn muscle fibres make it look like the same injury. Maybe rushed back. Am sure we're doing due diligence.
If we could just keep Gomez fit then anyone else would be a reserve
Apparantly the 96 days is over summer break.
Chris Williams a journalist who covers the Bundesliga says he's only really been out with the same serious injury (allbeit a long time)… Similar to the 6 months Van Dijk lost at Southampton when he did his ankle.
Has it occurred to anyone that although we might be assembling a group of CBs who have problematic injury histories, Edwards is actually planning to use the working parts from each of them to build a super defender, ala Frankenstein?
Always pushing the envelope that fella.
One thing to consider is that the player is still young. The ankle injury is different , but if his muscle injury has been well managed, he could easily come out of it without a problem. However, paying 40m for a lad who has played less than thirty games in the two last seasons seems very… un-Edwardsesque.
I still expect us to:
either sign Kabak for 18m
or sign a super-duper fit lad for big money, one of those we were linked with in January (unlikely at this stage)
or (more likely) a young player we had never heard about before he signs, and of which we fans realise afterwards that he has all the tools to be the next superstar.
Yeah 100% a lot of players get "growing" pains when their body grows quickly and the demands of football put huge strain on it. You've got to trust our medical team as it's rare we've got it wrong (Keita aside!)
I'd think this one is pretty close to being complete though. Kabak could be seen as your last 3 combined actually

Young (21), looks very durable, linked in Jan (haha)… Ironically the metrics most are using is a comparrison with Gomez in the 19/20 season as the "benchmark" and Kabak at Galatasaray is similar in every way that season!
Now that you've mentioned it, I can already imagine that super defender - I imagine him having Van Dijk's brain and Van Dijk's physique with Van Dijk's fitness record prior to his ACL injury.

Joking aside, I imagine that some people at Liverpool will be furious that this information has leaked because it might have a bad effect on Phillips and Kabak, especially the latter. He's been auditioning for that role and now it seems they are giving it to someone else, that has got to hurt.
Interesting if true. There was talk of our interest in Konate last year. Is this being confirmed by anyone else?
By the way, he's playing LCB for France in a back 4 at the moment for their U21's.
Kounde is RCB, Konate is LCB. Good to know that he can cover that side as well.
Kicker are reporting it, but cite The Athletic as their source.