I grew up in pubs. I was raised by my grandparents, who were relief managers for various breweries across Wales and the South-East of England. I don't know how that sentence translates into American, so to keep a short story long, the brewery hires a manager but the manager turns out to be useless, ruins the pub's finances and reputation etc., so my grandparents would step in for a few months, steady the ship as best as possible, before handing the business over to the next awful manager. Sort of like Gus Hiddink at Chelsea.
Anyway, I was pouring pints before I was tall enough to see over the bar, and I've slowly shagged my way across Europe working in heavily beer-orientated bars (a couple G&T, Cuba Libre, Moscow Mule, etc), but I'm moving to New York City next year where I've read there's a lot more competition for bartenders, so I took the opportunity during the first lockdown to build a home bar and learn the history of mixology, particularly in regards the US.
I think it's going pretty well. I read a lot of books and drank a lot of drinks. I took a few online classes, which I'd not necessarily recommend for the price, but they at least served as encouragement that I was doing things right. If nothing else, it's provided me with an excuse whenever I want to get a bit messy; 'Yeah, better make a couple more Daiquiris, since it's research for my career…'.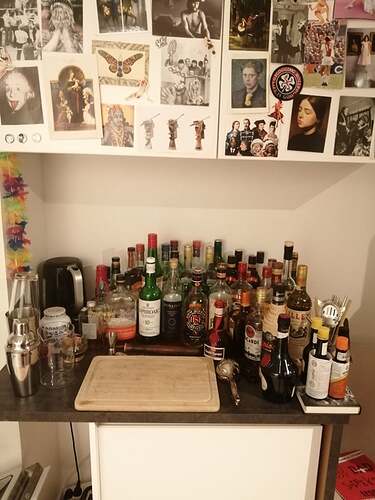 Here's the home bar as it stands.
Anyone else interested in this?
Any bartenders, amateur or professional?
If not mixed drinks, what's your regular poison?