Hello Mods,
Please could you merge the tributes to Pelé in this thread please, thank you…
This picture is so iconic. Pelé, he was such a trailblazer for football.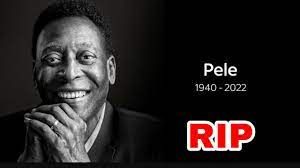 Not sure if this is the best place but Pelé has died:
Shame I never got to see him play, if there's 1 name I wish I couldv'e been around to see it would be him.
Rest easy Pele.
Legend.
Knew it was coming. Still very sad. Some of the joga bonido magic just left planet Earth for good
So they have Cruijff-Maradona-Pelé upfront in heaven now, hard to beat

Since i was little and started to watch and understand football as a child. The name i which I always knew was Pelé.
We know Pelé was ill for a long time, but it is still so sad to lose such a huge football great, perhaps the greatest footballer the world has ever seen.
We have lost such an influential iconic sports figure around the world, regardless whether you were an avid football fan or not into football.
Pelé was the one who put football on tv and enticed us to watch football. He made this game so beautiful to watch and he totally mesmerised us.
RIP Edson Arantes Nascimento. You were truly a unique and true legend.
I think Pelé deserves his own tribute thread.
I think you are right. I'd also love to see more footage of him. I only remember him towards the end of his career but Pelé was always a byword for footballing perfection.
Exactly. He was the first international footballer I remember, even though i never saw him play live. I was too young, but his name was always mentioned in footballing conversations with my Dad and uncles.
I made a thread for Pelé. I hope mods can merge the posts in there and change the title. I made it in haste, i couldn't think of of a better wording for it.
i would love to think that Pele is standing at the pearly gates waiting to enter heaven,
inside stands an in his prime Bobby Moore, holding a football under his arm,
Cruyff stands against a wall chatting to the Brazilian great Socrates whilst sharing a cigarette,
Maradona stands by himself, bouncing up and down hyping himself up for game of football or some agro
a prime Gordan Banks does some stretching,
Georgie Best chats to a beautiful angel and drinking a vodka and coke,
Paulo Rossi runs around practising his goal celebrations,
and at the gates waving excitably at their old friend are Garrincha and Carlos Alberto.
What a football team heaven could pull together,
RIP Edson Arantes de Nascimento, who was know simply as Pele.
I've not yet seen Pele do the Robbo Hair Tussle

The word "legend" is frequently overused.
It doesn't do Pele justice.
Rest In Peace.
Aside from Muhammad Ali, I'd say he was the most famous sportsperson in the world when I was a kid. All for the right reasons too - obviously his football skills set him apart from his contemporaries, but I don't remember ever hearing or reading a negative story about him. It's sad that he's gone but his good name and legacy will live forever.