That girl is almost as gorgeous as me.
Almost.
I always suspected she was using a bucket of filler and makeup.

More than a little photo shopping going on here he thinks compared to the white one below.
A bit chilly …

That nightie doesn't fit her…
I'm not sure she would need to wear it for too long if @Dutch was around W8 :0)
This thread is making an old man very happy…

She is 6'0" tall - her legs make up 5'0" of that :0)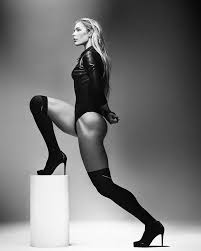 Oh ok…nothing for the ladies eh!..a nice Nunez would suffice…
Mrs has been watching Chris Hemsworth's series called "Limitless" as of late.
The Joy & Jutta Thread…do it my friend.
You forgot to insert the new emoji lfti… :0)