Perfect product for him to sponsor. "Ready to Fuck Off on a Moment's Notice" would be a better slogan, though.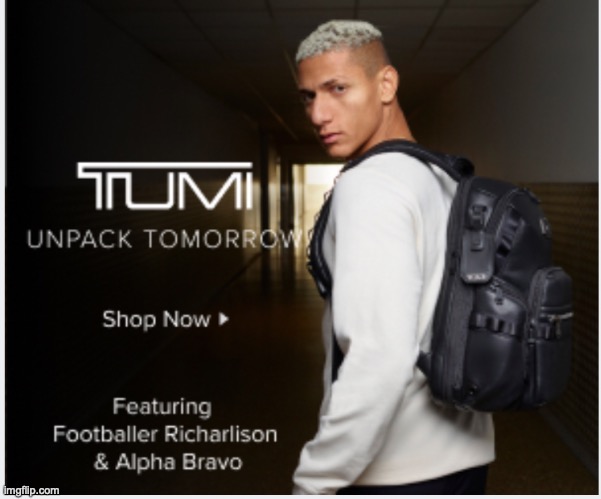 He does speak English. He did interviews in English over the World Cup.
Strange to defend Richarlison twice in one post, but I'm on his side here. Conte has been publicly shitting on the club and the squad more or less from day one, generally acting like he's too good to be there, and presumably refusing to walk because he wants his compo.
Is anyone else thinking what I'm thinking?
Richarlison is still a cunt?
Totally get where you are coming from, but with 0 goals and 2 assists in 17 appearances, Richarlison didn't have much of a leg to stand on. Does not strike me as the brightest.
Richy is a cunt.
Conte is not an elite manager.
Basically looking to get the sack and his payoff since he arrived.
We're getting top 4 at the expense of Spurs?
I'd hate him at my club, but he's right
Would love hem and his passion when Klopp leaves.

He'll have gone through another 6 clubs at least by the time Klopp calls it time on management…not sure how keen our new owners will be.
Oh dear, the rat is injured again…


Well, he is and has been a successful manager, perhaps he is a manager better at picking players that are not injured that often …
I don't doubt that but if you want to compare a Pep/Klopp/Carlo to a Conte…you want a manager who buys into the clubs ambition for the long haul and won't walk out or threaten to at least, every year when life isn't made all that easy.
Every top level manager has a touch of arrogance in their character and in their charaterisms…we all sit here and make fun of the fact Conte's on another rant (me included) but in reality is it any different to how Spurs or Chelsea or any other rival fans view Klopp when he's on 1 on the touchline or kicking off at journo's in pressers.
Not sure about the other point you make can't comment too much on that but I did see Davies & Richarlison both came off injured first half, Lloris Sessegnon Bissouma Bentancur all out as well, can't say if he picked them when they were carrying knocks prior.
Nope, plays a negative style of footy don't want him our club
Prime Mourinho was an ass, but he generally stayed three years before it was a dumpster fire and he left. Later in his career the cycle shortened and the trophy haul diminished.
Conte is in the latter-day Mourinho sort of space for me. Short life span. Short fuse. Might win something, but it wouldn't be worth it.
Not a good fit, at all, for Liverpool.
Anyway, we've got Klopp for a good while longer. As his tenure comes towards the end, let's see what's what. One I am watching is Xabi Alonso. He might not hit the heights, but I hope he does. Either way, it's nice to keep an eye on former reds as they spread their wings as managers.
Trying to get fired a la Mourinho but probably will not work. They only have to stomach him for 10 more weeks to save the severance. Those players may well be pissed. Eric Dier, Harry Kane and a few others in theater masks waiting to pummel him as he arrives to Monday practice with his latte. "Here's a little 'situation' for you, mutherfocker!!" That'll get them back in fighting trim in "their eyes and their hearts."