Everyone say hello to our new CB

No-one got the signing as "a bright blue space man bubble jacket…"
Welcome! Very happy about this one!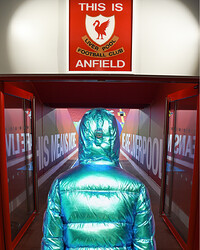 Hope he stays fit till unveiling.

Kidding, welcome abroad Ibrahima. YNWA

Wow. I did not see that coming
That'll be it for our summer business then??
Grock.
Look forward to him and Virgil steamrolling some fuckers.
No question he'll become a better player. I just hope he can take the pace!
They should just award next season's title to us now.
I heard on the grapevine he'll be leaning on a dot-matrix print-out of your 20/21 match reviews.
The fucker is 11ft high, by all accounts.
Fantastic signing. Going to be a player for us.
Only for var to overturn the decision because reasons
Love it when Edwards and co don't fuck about.
Like the season we bought Fabinho in, nice and swift, no fucking about. Important player to bring in.
This summer is the crucial one in terms of bringing in players to transition.
Yup, and when you look at pictures or videos from him, how he moves on the pitch, the ease and the pace, you'd never think that he is as tall as that.
Welcome Ibrahima, you're going to be one hell of a signing for us if you can stay fit!
Excellent. I like this signing. Bit of a unicorn this guy, in terms of skill set. Massive potential.
Kloppo:
"I'm really pleased we've been able to add a player of Ibrahima's quality to our squad and he is someone I've admired for a long time, ever since I first became aware of his potential when he was at Sochaux," Klopp told Liverpoolfc.com.
"After the problems we had with injuries in the centre-half position last season, there's no doubt it was clear it was an area of the team we needed to strengthen – but I first have to say that the job Nat, Rhys and Ozan did was incredible. Unbelievable really.
"In Ibrahima we are signing a player who will add to the quality we already have here. His physical attributes are very impressive; he is quick, he is very strong and he is dominant in the air.
"He comes to us after playing more than 90 times for Leipzig in the Bundesliga and European football. I'm sure that number would have been more but for some injury, but even so that means he already has experience of what it takes to compete in two outstandingly difficult competitions.
"He also played for a team in the Champions League in high-pressure matches, who have a similar football vision to ourselves.
"I am confident we are signing a player who can play for us right away, but he is a boy of 22 years of age who has room to improve because of his massive potential. I know that's something he is eager to work on with us to become an even better player.
"For me, that's really exciting because I have seen how good he is already and I'm looking forward to working with him when he joins up with us in pre-season."
Just what we need!

194cm… isn't that taller than Virgil? What a specimen
VVD is 193 cm. Matip is 195 cm. Gomez is 188 cm. Phillips is 190 cm.