Thats it you tell him from behind your computer

, a real warrior.

Curtis has been excellent since he has come back into the team and deserves to be part of this group going forward.
Hendo should have been hooked long before him yesterday.
Some fans are simply amusing. But again without such posters, it can get boring at times.
I do agree. His legs have gone.
Curtis Jones is a smashing player. The way he has been playing, he is well worth his place in the side. It will be difficult to displace him, but let's imagine we sign a couple of top quality midfielders, then at the least, Jones is worth his place in the squad.
Young, local, has overcome injury issues - there's a hell of a lot to like. Good luck to him.
Henderson? He will revert to the Milner role. No longer can he carry the team or urge it on by athleticism and sheer force of will. Not any more, at this stage of his career. But he can still play an important role, as needed, moving forward.
The Villa game was disappointing, but there's no need to go overboard on that one game. The whole season has been below par. The last 8-10 games has been more like it.
We will strengthen this summer and kick on again. The new team is emerging. Jones will have a say in that and good luck to him.
Curtis Jones is sometimes maybe good, sometimes maybe shit…Kinda inconsistent though!
So he's 50% as consistent as you. In your opinion. He had a string of injuries and after putting a run of games together is really finding his form. People are way to harsh on him. Great player, will be brilliant.
I definitely rate him more highly than you.
Injuries have been the main issue, and he looks to be overcoming that. Good luck to him there.
A second issue, if I am critiquing the player, has been a tendency to hold on to it a bit too long, so the pass has been delayed sometimes, or he gets tackled as he lingers. I think those things are traits of being a dominant player coming through the ranks, but in the Prem you simply don't have the time.
With that said, in his latest run of games, post-injury, there has been more maturity in his play. He has been crisper in the pass, played it a bit more quickly, and has pressed very well too, along with being a goalscoring threat from midfield.
There's a heck of a lot to like.
The only thing that remains to be seen for me is if he is more of a first team starter or an excellent squad man, once the midfield reinforcements arrive.
Either way, he is showing us that he can play, and he has a good future here.
All this stuff about is Jones good enough or not?
We need a squad. In midfield we need about eight Lads we can rely on and Curtis is definitely part of that group.
The way I sometimes judge an opinion against those players that divide the fanbase… Is to consider whether I would be glad to see that player coming on as a substitute… or not, if the team were struggling on the pitch…
With Curtis Jones, the lad has definitely got a goal or two in him, and he now appears as though he is beginning to follow basic instruction from the coaching staff, which by default, should bring a confidence to the fans in knowing the lad will make a solid impact
Small sample size of course but those numbers are exactly what we will be looking for in any new "8" signings this summer.
Just compare that to Alexis Mac Allister and tell me they're not similar.
100% he's also got exceptionally high pressing and counter pressing numbers which is exactly what we need (and have been missing)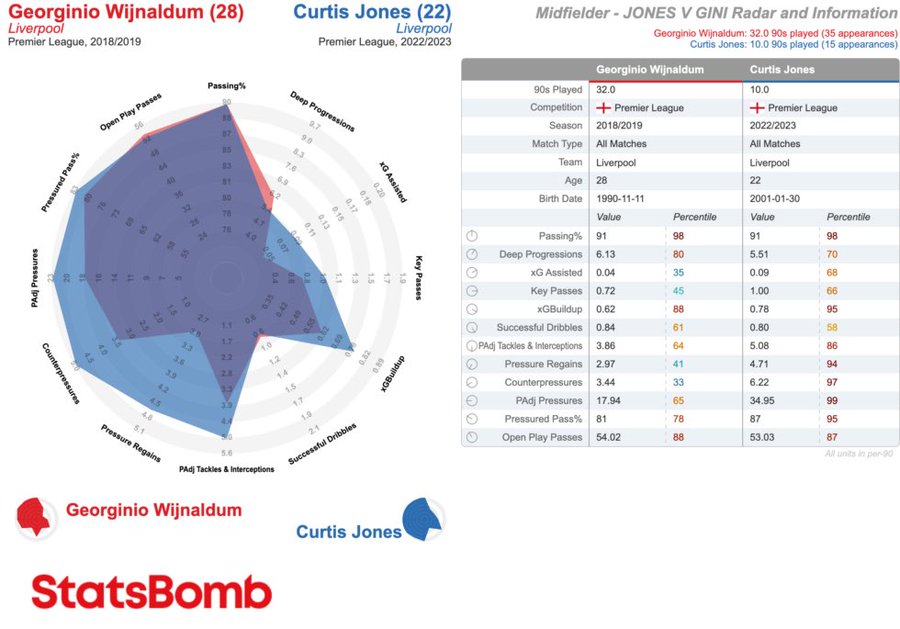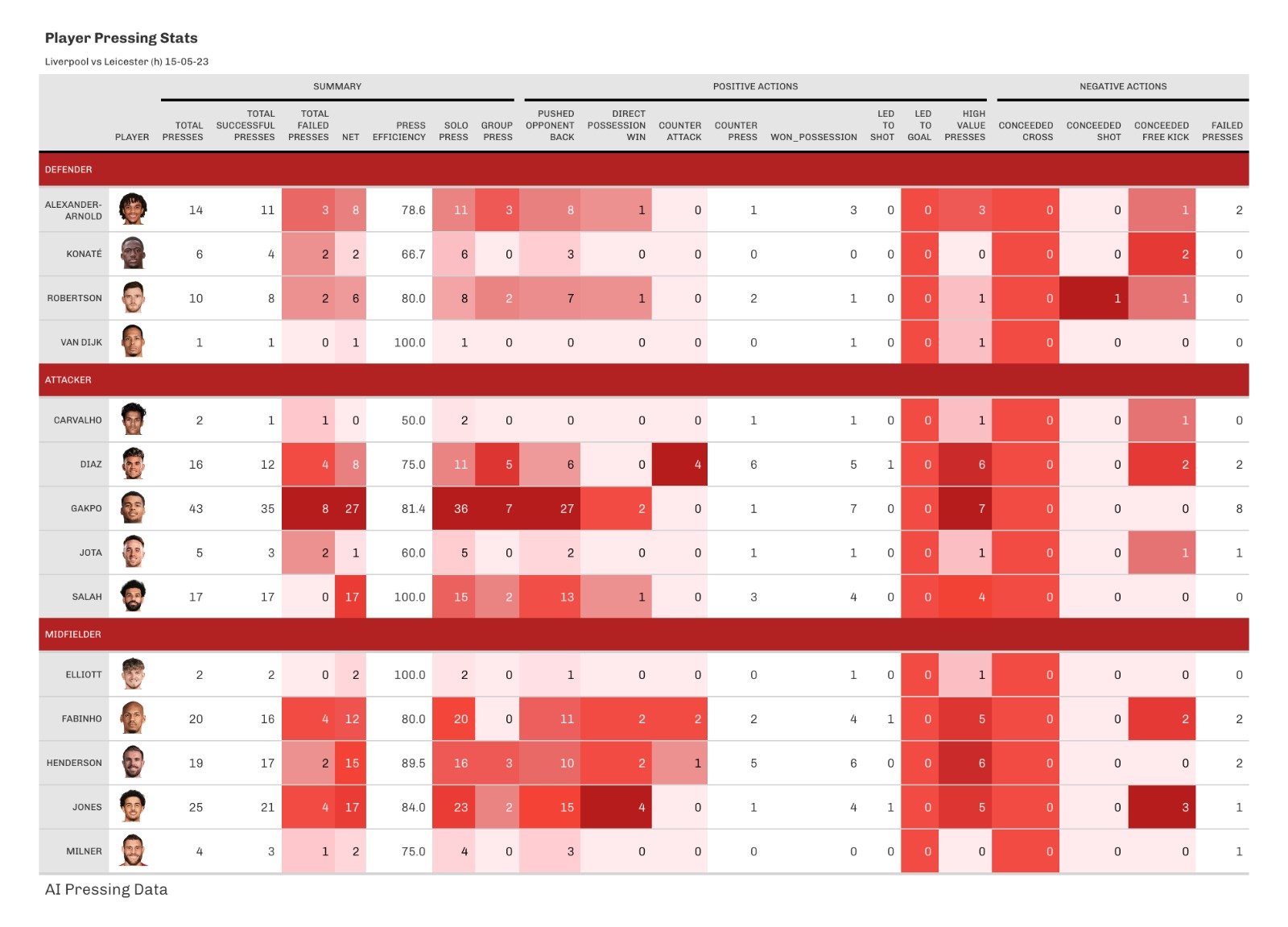 Gakpo is a pressing machine as well.
Good data points. Curtis Jones is fine. If he leaves his injury worries behind him, it will take a special player to shift him from the team. At the worst, he will be an important member of the group we need, moving forward.
Watched a video of Tears for Fears…"Shout"…man playing guitar on a cliff edge…reminds me of…Curtis…any others think the same…
Roland Orzabal? He looks nothing like Curtis.

Well i thought he did…
His hair style…praps it was when the camera panned away from him on the cliff edge…