There'll be a few of us kissing our wrists after this one.
Came on for the last half hour v Chelsea but come 4th April that blank will have 3 spaces taken.
14 goals and 4 assists in 31 games is pretty good, considering his first season, Liverpool in general struggling, him missing some games, playing across two positions, etc.
15 games to go this season, he might get to 20 or more goals.
Love his pace, his determination his ability to score and yes his temperament just I liked those things in Suarez.
Funny you don't hear people anymore about the lack of goals …

Suits that 17th century Spanish facial hair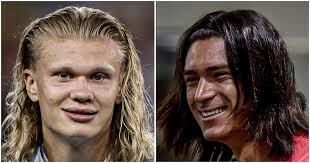 Yo Pep… Don't like yours
We've known he was somewhat raw since the beginning of the season, but bagging yourself a brace against the Mancs is usually enough to endear players to us — just ask Shaqiri.

In all seriousness, what a player. Wasn't on the list, but he made the opener against Everton, too — that was the first time I realized the extent of his pace. Think it will do his confidence a world of good bagging a brace in his first Liverpool-United game.
Pretty sure anyone writing him off early days watches football exclusively through reels and shorts. Goals or not, his contribution to the team is obvious to anyone who's actually watching.
He's been our best and most consistent player this season. The only player in the squad I can say with certainty will have an influence on every game he plays.
I've seen quotes of him thanking the fans for backing him when things weren't going so well. Also one where he says how impressed his Wife was with the fans backing of him. Sounds like they're both happy to be here.


ive been critical of his finishing in =front of goal and i stand by what i said at the time…
progressing nicely though…i don't want to tempt fate here, but playing the long game…will Nunez be held in our hearts longer than ol' mate is held in the hearts of City fans?.. possibly? even probably?
whilst we cant be silly about it and suggest Haaland hasn't been better and more successful at City than NUnez has here, theres this developing feeling that whilst Haaland will want away pretty soon, Nunez is here to stay and make shit happen…
id have to watch more football of man city to really fight this point… im just not willing to do that, so i concede
The sheer amount of goals Haaland has scored makes up for the difference in other areas of play.
If Haaland's drop off continues for an extended period of time, and Nunez improves his numbers further, the discussion will change.
Either way, Nunez is great.
"Personally, I think you're playing absolutely shite, love, but they still like you!".
Another injury, just what we needed, 4, 6 or 8 weeks…
Hopefully it's that shoulder giving him pain, we won't find out for another fortnight mins, dove tails nicely with Dias

Just when you think we've found a bit of stability with healthy players at least, here we go again with about 6-7 injuries…
I didn't think he looked right in the last few games, including United. Probably another player we've pushed over the limit.