And it's pronounced "soh-boss-lie" before you ask.
I like it. Never seen him play, of course, but it'd be nice to have an Hungarian in the squad.
So pumped for this one lol
expire on June 30
We better hurry then …

Mac Allister and Szoboszlai would be an excellent window. Hopefully get a couple more in as well but they are both ready-made starters.
Darwin who…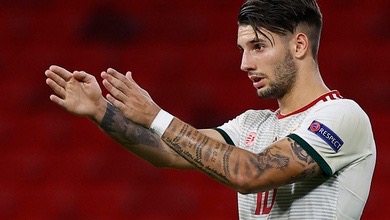 Suspect we wait until after 30 June to submit a bid - try and get a deal that is near the clause in terms of value, but in instalments etc. These clauses usually require the sum in one hit.
Fine by me.

He is a sneaky 6'2" according to a piece I read yesterday. Impressive inside leg measurements
DOWN WITH SHORT PLAYERS!
The existence of a clause doesnt preclude you from coming to a differently structured deal.
Nope - but RB's stance might be that they won't negotiate anything unless that clause it met as they want it all upfront. It's tomorrow anyway - if we're signing him, it'll be done in the next week or so I suspect.
Watch us sign JWP next week now.
Going to have a tough job finding a word or phrase that rhymes with that for his song :0)
Soz boss lie does sound scouse slang
Thank you,I've been trying to pronounce his name, but it wasn't coming out anything like that.
Proper ray of sunshine during silly season, you.
Which of our present or immediate past players is most comparable to him? Keita/Ox!