Starter ahead of Johnno & Clyne? Not a chance. Probably wouldn't even start ahead of Flanno.
I have a feeling he'll end up playing higher up the pitch and have a really good career there.
Same here… He really looks like someone who can thrive without the added defensive responsibilities that a RB has…
Better balanced player than Flanagan, much better fit to what Klopp wants from the position. Flanagan was a better defender, but nowhere near the same level of attacking game.
Flanagan was an extremely limited championship level player at best. Neco easily fits into a starting xi for an upper mid table side.
And it's easier to teach someone like Trent to defend rather than it is to make someone like a Flanagan / AWB to attack.
Had Trent not kicked on to be the player that he is , I could easily see someone like Neco getting the game time. And players do improve with regular gametime and more cohesion with their team mates.
That way Neco is very unlucky to be not playing for Liverpool regularly. He's too good to be a backup for one of the top 3 teams in the world. That alone shows his quality
And I'll pick forest to be comfortably finishing above relegation fights next season. Maybe even 11th or so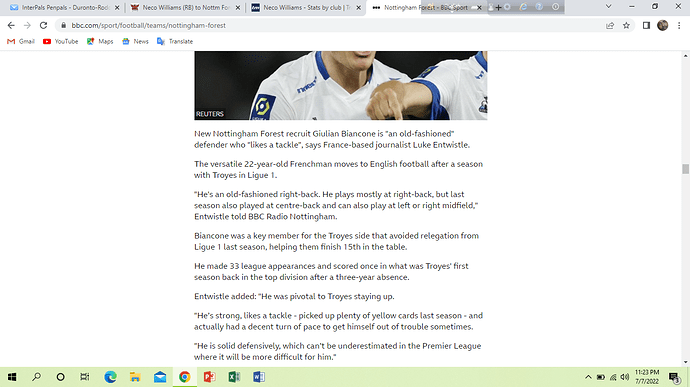 Interesting piece in BBC. If Giulian Biancone is "an old-fashioned" defender, do they plan to deploy Neco further upfield!
Maybe just gives them options for particular opponents.
I thought I read they wanted wing backs and Neco was for the right sided one. The Bayern lad for the left is an attacking type also.
Yeah, by options I meant they could opt for an attacking RB like Neco, possibly for the majority of their games, but they've also got this more defensive guy for occasions when they need to lock things down a bit more.
I don't see Neco playing on the wing.
Significantly better player than Flanagan.
Going straight in the fantasy team when it goes through.
Good call. He's only 4.0m

Good move for Neco. Premier league team with a manager I presume he knows from his LFC days. Too good to be a back-up for TAA, but knew he would get very few minutes if he remained.
All the best for the future.
Shame he is leaving but he needs to be playing regular.
Needs game time so he is better going,Best of luck to the lad,he is a good player.