With regards to michael oliver, ignoring the occasions when he might have been let down by VAR, there were numerous occasions where he simply failed to apply the laws correctly, and simply turned a blind eye to the blueshite's misdemeanours.
Take for example the free kick following the high foot on Mane.
Law 13: Free Kicks states:
Until the ball is in play all opponents must remain:
at least 9.15 m (10 yds) from the ball, unless they are on their own goal line between the goalposts
It also states: If, when a free kick is taken, an opponent is closer to the ball than the required distance, the kick is retaken unless the advantage can be applied.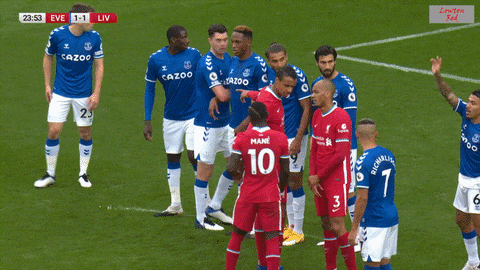 So why did oliver allow the free kick to proceed when all bar one of the blueshite were standing in front of his line i.e. less than 10 yards away; why didn't he have the free kick retaken?
What is point of spraying a line if he then permits players to ignore it?
Why did he ignore Matip and Mo when they pointed out that the blueshite were less than 10 yards from the ball?
What is oliver's problem? Shortsighted? Incompetent? Biased? All three?