An old favourite of mine back on TIA.
Anything that doesn't deserve it's own thread, chuck in 'ere.
How come the Russian League is still the sixth best in Europe???
Gazprom, threats and free access to Russia's drug-testing system…

That's hilarious.

Are some crimes beyond the pale such that careers cannot be resumed under any circumstances?
The Club have u-turned (again) and will not be signing him.
Reading the report below about what he actually did… I do think his career should be over. Heck, I think he should still be behind bars. Beating the shit out of someone over the course of three days, breaking their jaw, smashing mirrors over their head, making them lick paint off the floor… he sounds like a psychopath.
Recalled to prison for inappropriate tweets about the conviction a month after his release.
Sounds as if he regrets the assault (hardly at all)
Ryan Reynolds and Rob McElhenney (Mac from It's Always Sunny in Philadelphia) are supposedly in the process of trying to buy Wrexham.
This is not a story I expected to see.
I posted it

earlier,wasn't really sure where it fitted.
AC Milan vs Bodø Glimt 3-2. Was inches from 3-3 in the 92th minute. A fantastic game from Bodø-Glimt despite going out. So close.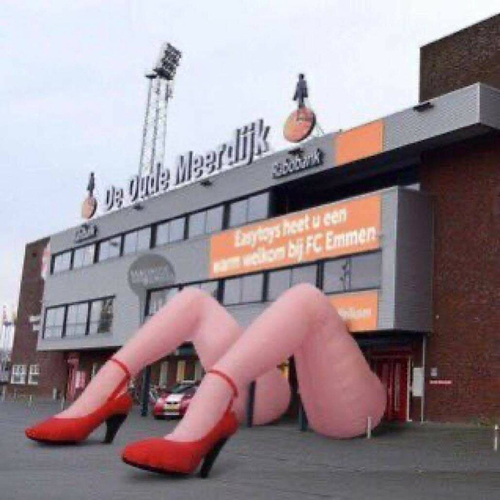 Dutch club FC Emmen have unveiled their new stadium entrance, after agreeing a sponsorship deal with a sex toy company.
Seriously? The authorities approved this? Wouldn't children be going there too?
Mate, that's where they come out. Duh.
He got paid $150k for that.